Globalisation is the facilitator that allows connection on a worldly scale, which allows it to succeed now more than ever before. Although it might take 14 hours to get to the other side of the world, with convergent media platforms and technologies, we are able to access these parts of the world through the click of a button in a much shorter time span.New media flows and technologies makes it easy for users to shrink cultural borders. I believe that this can be seen as a positive thing because we as people can be exposed to many new and different experiences. We now have the ability to understand a variety of communities and groups without being confined by geography or finances like it used to be. Buying a plane ticket is unnecessary with our technology today because we can see these places and understand the cultures through the click of a button.
 "Globalisation offers a sense of interconnectedness by facilitating interpersonal communication and the formation of communities and relationships across geographic, racial, religious and cultural barriers" (O'Shaughnessy & Stadler P 45)
Marshall McLuhan's concept of the "Global Village" can be described as a virtual meeting place for people to freely share their insights and information and allows users to project their messages to people all around the world. So ultimately, McLuhan's view of the "Global Village" is that no matter the physical distance between people of the world, they can still be brought together through the global village. Virtual communities of like-minded people and interests can be formed and maintained on the platform through the exchange of information. The traditional barriers that would prohibit this kind of exchange are quickly being broken down.
The opening up of this global village and the heightened ability for a free exchange of information has lead to various cultural influences being found in many aspects of our life. What we consume, including the music we listen to, the movies we watch and the food we eat are more diverse, thanks to globalisation.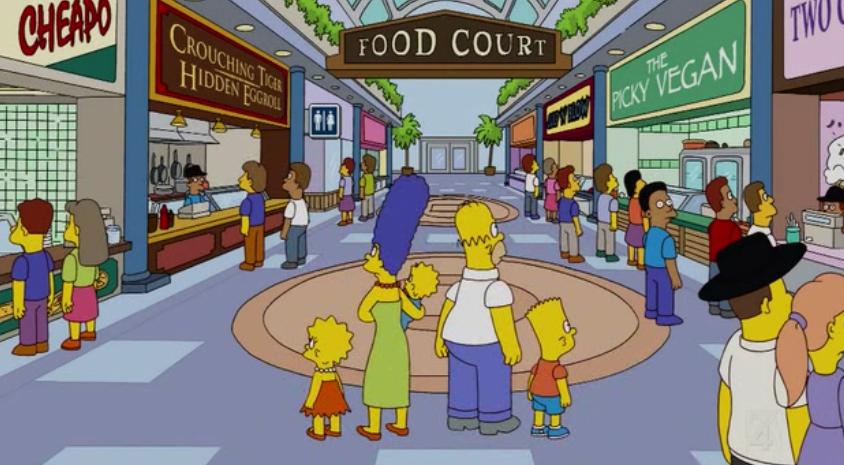 The cultural influences that have been allowed due to this new and free flow and exchange of information is evident in most of the media and pop culture that we consume. These three images above illustrate the ways in which multiculturalism is seeping-in. The standard food court is no longer a pit stop for a burger and fries, we are now bombarded with choices with overseas influences. From Thai to Indian and even Japanese dishes, we are now experiencing how globalisation has had an impact on our consumerism.
In music, Katy Perry is often seen referencing and wearing outfit choices, which have been influenced from various exotic cultures. This image shows Katy wearing a kimono and other Japanese clothing items. Outfits like this can be described as Cultural Appropriation, but often these celebrities are saying they believe that what they are doing is Cultural Appreciation, which can be defined as appreciating key parts of a culture.
In the movie sphere, Quentin Tarantino's film series Kill Bill embraces the classic elements of Japanese films or spaghetti westerns to name but a few. The lines of cultural borders are becoming more blended as we positively embrace these new influences as they are incorporated into the media we consume.
As the world becomes more multicultural and communications across borders is made easier, we can develop a better understanding of our neighbours in this ever-shrinking world.
---
References:
O'Shaughnessy M & Stadler J, 2012, 'Globalisation', Media and Society, Oxford University Press, Oxford, pp 458 – 471.